An Inside Look at the Corvette Buildsheet Book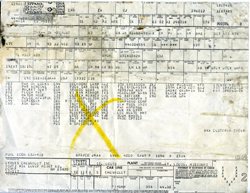 The first comprehensive and authoritative study guide to 1973-82 Corvette buildsheets launched April 2013.
Now available for the Corvette enthusiast to explore codes on a C3 build record and discover that 1973-82 build records differ from 1967-72 tank stickers. Learn the 1973-82 buildsheet was the General Motors Assembly Division (GMAD) manifest used in other GMAD assembly plants.
A series of three articles have been published in The Corvette Restorer regarding late model C3 buildsheets. This Study Guide offers the reader a structure to fully understand the origins of the 1973-82 manifest while illustrating how to interpret its regular production options (RPOs), schedule data, job number and broadcast codes. Nowhere can you find a more comprehensive source to guide you to fully understand your very unique C3 buildsheet.
---
A Look Inside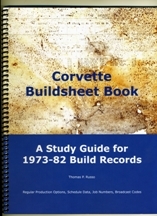 This page offers readers a look inside Corvette Buildsheet Book at its technical content. Click the cover to the right for a narrative overview of the Study Guide. Below you will find links to the Table of Contents, chapter excerpts and the Narrative Guide to Resources. Click on the link for a preview of these sections.
The Table of Contents outlines six chapters accompanied with a Narrative Guide to References. Read excerpts from Chapter 3, Buildsheets by Model Year and Chapter 4 Job Numbers & Body Panels.
To view a typical sequence of build records for a GMAD built Corvette from dealer order form through the retail invoice label...or window sticker, check out the Corvette Action Center.
---
About the Author
Tom Russo is a long-time car-guy whose first Corvette ride was a 1969 Daytona Yellow L36 convertible that hooked him on America's Sports Car. He and the "Crow" would make frequent runs to Skip's Fiesta Drive-In in Melrose Park with the top down. His first ride was a 1967 Marina Blue Chevy II Super Sport 327/275. Couldn't afford that L79 Corvette. He quickly picked up a crate 327/350, topped it with a holly, outfitted the four-speed with a Hurst, stuffed Hookers off the exhaust manifolds, routing them out the wheel-wells, welded traction bars to the rear to keep a 4.56:1 gear under the unibody and ran around town on Mickey Thompson 8-inch slicks. Weekends at area drag strips sported a Chevy II SS that ran mid-12s.
Since those days, Russo has researched and authored a number of articles on Corvette technical topics ranging from tach boards, tire safety and Pace Car preservation to the one-year yellow spare-tire rim. Particular areas of focus are those coveted build records exclusive to late model C3s. He has now turned his research and technical writing skills to the study and documentation of late-model third-generation (C3) Corvettes with the publication of the Corvette Buildsheet Book. Tom is an NCRS Master Judge with the National Corvette Restorers Society and a Gold Certification Judge with Bloomington Gold. The National Corvette Restorers Society has recognized Russo's numerous contributions to the the highly acclaimed; Golden Quill awarded The Corvette Restorer.
---
Read Reviews & Comments
Hib Halverson,
technical writer for internet and print media, reviewed the Study Guide and writes
For this reviewer, reading Russo's 52-page book was an education. I had no idea there was so much to learn about buildsheets. Up to now, I understood them to be 11x14 computer printouts listing the broadcast codes or RPOs of various parts of the car. I had no idea, for instance, that all tank stickers are not buildsheets but most buildsheets are tank stickers.
For the complete review go to the
Corvette Action Center
, product evaluations, books & periodicals.
Auto Enthusiast,
Also see
Auto Enthusiast
(AE) write-up for
Corvette Buildsheet Book
and reviewer comments. Add your review to Auto Enthusiast. AE represents several classic collector muscle cars including the Corvette.
---
Frequently Asked Questions
Why did you not start at 1968?
A frequent but good question and why you need to read the book! All kidding aside, from 67-72 St Louis used the Corvette Order Copy on the gas tank to document options. This study and collection of buildsheets began with 1973 when GMAD took over management of the plant from the Chevrolet Motor Division and introduced the GMAD landscape style manifest. The first chapter describes this in great detail and Chapter 2 describes the GMAD manifest with numerous color illustrations.
Where to buy?
The national organizations, National Corvette Restorers Society, National Corvette Museum and major Corvette vendors sell the Study Guide at a discount to members. Or, purchase directly from author. Click here
More FAQs
at the
buildsheet blog.
The FAQ section offers much background on the history of GM Corvette manifests and answers questions raised by students of 1973-82 Corvettes. If you have a question...drop us a note at the
buildsheet blog.
---
To order the
Corvette Buildsheet Book
, see
Book Information
---